8-year-old takes on '50-yard challenge' to help neighbors
[ad_1]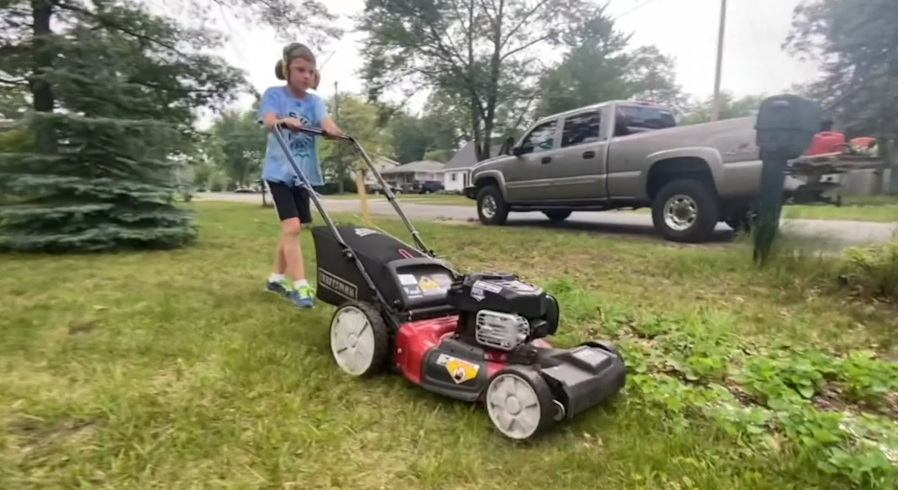 JR Achterhoff is helping his community one yard at a time. The 8-year-old from western Michigan is mowing grass for free as part of a "50-yard challenge." Achterhoff told WXMI that he plans to mow for people who could use the help, including single parents and veterans. Kathy People, one of the homeowners who got her grass cut for free, was impressed by Achterhoff's initiative. "I thought it was neat," she said. "You know, anything that you can do to encourage the kids to do respectful things."Achterhoff's first mower didn't have a self-propeller, but he recently received a donated upgrade. Although his dad drives him, Achterhoff puts in the work and said there's nowhere else he'd rather be. "It was cute, and he had such a great demeanor about him," People said. "He was just grinning when you were talking to him. That little grin just popping out there, and it was like, 'aww, he's loving this.'"
MUSKEGON, Mich. (Video: WXMI via CNN) —
JR Achterhoff is helping his community one yard at a time.
The 8-year-old from western Michigan is mowing grass for free as part of a "50-yard challenge."
Achterhoff told WXMI that he plans to mow for people who could use the help, including single parents and veterans.
Kathy People, one of the homeowners who got her grass cut for free, was impressed by Achterhoff's initiative.
"I thought it was neat," she said. "You know, anything that you can do to encourage the kids to do respectful things."
Achterhoff's first mower didn't have a self-propeller, but he recently received a donated upgrade.
Although his dad drives him, Achterhoff puts in the work and said there's nowhere else he'd rather be.
"It was cute, and he had such a great demeanor about him," People said. "He was just grinning when you were talking to him. That little grin just popping out there, and it was like, 'aww, he's loving this.'"
[ad_2]
Source link